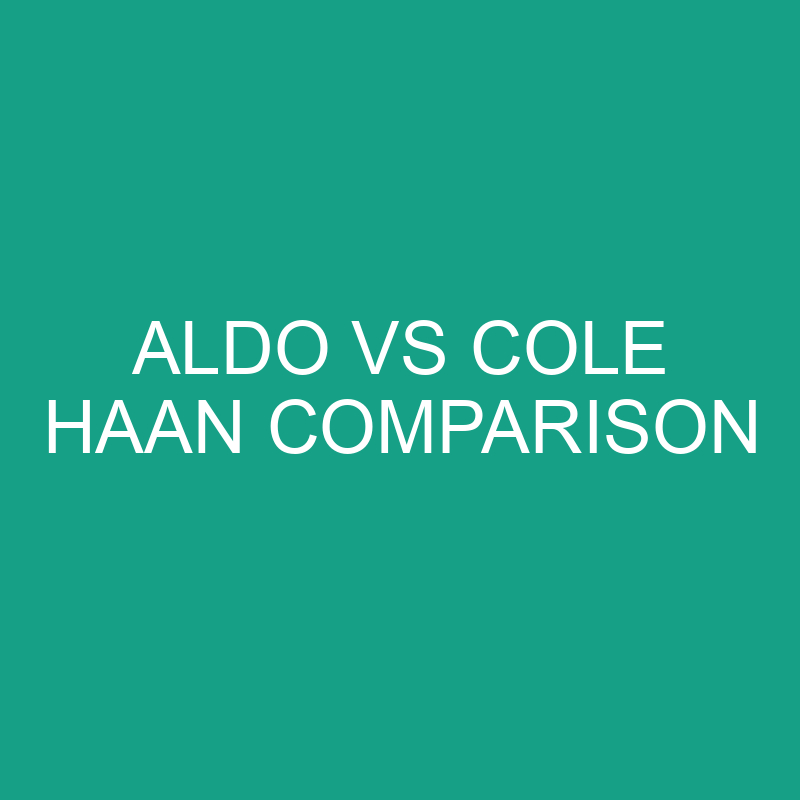 Aldo vs. Cole Haan: A Comprehensive Comparison
When it comes to footwear, Aldo and Cole Haan are two well-known names that have carved out distinct niches in the fashion industry. While both brands offer stylish and quality shoes, they cater to different consumer preferences and style aesthetics. In this comprehensive comparison, we will delve into the histories, design philosophies, craftsmanship, comfort, pricing, and customer perceptions of Aldo and Cole Haan. By the end of this article, you'll have a clear understanding of what sets these brands apart and which one might align better with your personal style and lifestyle.
1. Brand Histories and Legacies:
Aldo:
Inception: Aldo was founded in Montreal, Canada, in 1972 by Aldo Bensadoun, a shoe enthusiast.
Global Presence: The brand has since expanded internationally and operates over 3,000 stores worldwide.
Accessible Fashion: Aldo is known for providing on-trend, affordable footwear and accessories for a wide audience.
Cole Haan:
Rich Heritage: Cole Haan has a storied history dating back to 1928 when it was founded in Chicago, Illinois.
Acquired by Nike: The brand was acquired by Nike, Inc. in 1988, which introduced advanced footwear technology into Cole Haan's designs.
Modern Elegance: Cole Haan is recognized for its fusion of classic craftsmanship with modern design, resulting in stylish yet comfortable footwear.
2. Design Philosophy:
Aldo:
Fast Fashion: Aldo embraces a fast fashion approach, offering a wide range of footwear styles that reflect current trends.
Diversity: The brand's collections encompass a broad spectrum of designs, from casual sneakers to dressy heels.
Affordability: Aldo's designs prioritize affordability without compromising on style.
Cole Haan:
Timeless Elegance: Cole Haan focuses on creating timeless and versatile footwear that transcends seasonal trends.
Innovation: The brand integrates innovative technologies, such as its Grand.ØS cushioning, to enhance comfort and performance.
Quality Materials: Cole Haan uses premium materials, including leather and suede, in its craftsmanship.
3. Craftsmanship and Comfort:
Aldo:
Varied Quality: The quality of Aldo's footwear can vary based on price point and materials used.
Comfort Range: While Aldo offers comfortable options, its primary focus is on style diversity and affordability.
Cole Haan:
Consistent Quality: Cole Haan maintains a reputation for consistent quality, particularly in its higher-end lines.
Innovative Comfort: The brand's incorporation of technologies like Grand.ØS provides exceptional cushioning and support.
Premium Materials: Cole Haan uses high-quality materials to ensure comfort and durability.
4. Pricing:
Aldo:
Affordable Options: Aldo is known for its affordability, making it accessible to a wide range of consumers.
Value for Money: While some high-end designs may be pricier, Aldo generally offers value for money.
Cole Haan:
Mid to High-End Pricing: Cole Haan positions itself in the mid to high-end pricing segment.
Investment in Quality: The brand's pricing reflects its commitment to quality craftsmanship and comfort.
Higher-End Collections: Cole Haan's higher-end collections, such as the Grand Ambition and 4.ZERØGRAND lines, come with premium price tags.
5. Customer Perceptions:
Aldo:
Fashion Forward: Aldo is perceived as a brand that caters to fashion-forward individuals looking for affordable and trendy footwear.
Youthful Appeal: It resonates particularly well with younger consumers who appreciate fast fashion.
Cole Haan:
Timeless Elegance: Cole Haan is associated with timeless and elegant footwear that appeals to a more mature and sophisticated audience.
Comfort Priority: Customers often praise the brand for its comfort, especially in its Grand.ØS-equipped shoes.
Versatile Style: Cole Haan's versatile designs are appreciated by professionals seeking stylish yet comfortable work shoes.
6. Conclusion:
Choosing between Aldo and Cole Haan depends on your style preferences, budget, and priorities:
Choose Aldo if:

You are a trendsetter who values affordable, fashion-forward footwear.
You want a wide range of style options at accessible price points.
You prioritize variety and affordability over premium materials and comfort technology.

Choose Cole Haan if:

Timeless elegance and versatile design appeal to your style.
You value comfort and are willing to invest in well-crafted shoes.
You seek premium materials, innovative technologies, and a brand with a legacy of quality.
Both Aldo and Cole Haan offer distinct advantages, catering to different tastes and needs within the fashion footwear market. Ultimately, your choice should align with your personal style and the importance you place on factors such as price, quality, and comfort.