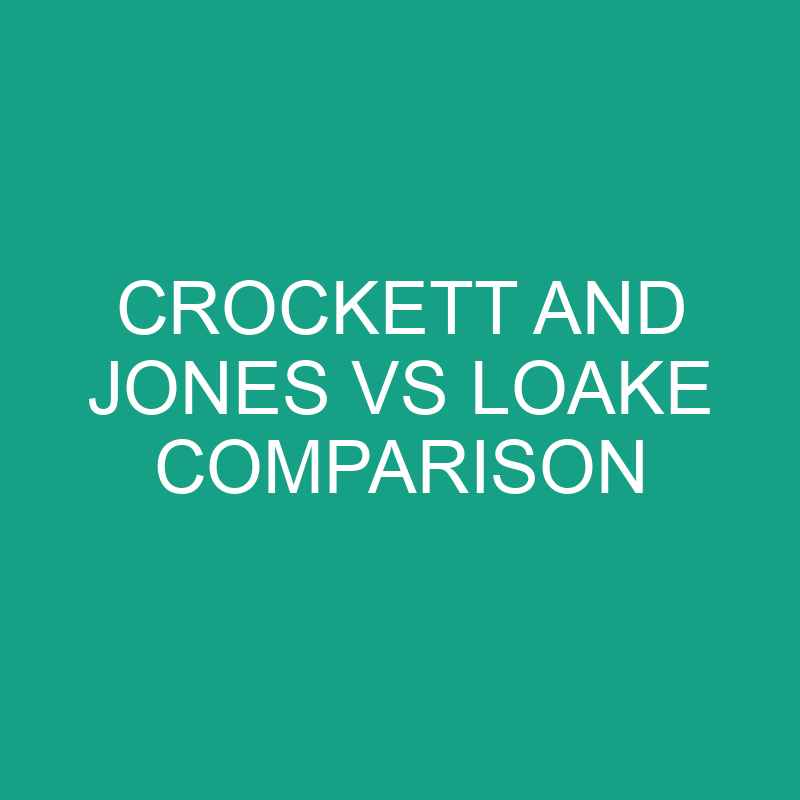 Crockett & Jones vs. Loake: A Comprehensive Comparison of English Shoemakers
English shoemakers Crockett & Jones and Loake are renowned for their craftsmanship and the tradition of producing high-quality footwear. Both brands have a rich history dating back over a century and have earned a stellar reputation in the world of fine shoemaking. In this detailed comparison, we'll delve into the histories, craftsmanship, design philosophies, key product lines, construction methods, pricing, customer feedback, and other essential aspects of Crockett & Jones and Loake. By the end of this article, you'll have a comprehensive understanding of what distinguishes these two brands and which one may align better with your footwear preferences.
1. Brand Histories and Legacy:
Crockett & Jones:
Heritage: Crockett & Jones was founded in 1879 in Northampton, England, a town renowned for its shoemaking heritage. The brand boasts over a century of experience.
Royal Warrant: Crockett & Jones holds the Royal Warrant of the Prince of Wales, a testament to its commitment to quality and craftsmanship.
Traditional Values: The brand has maintained a commitment to traditional English shoemaking values while adapting to modern demands.
Loake:
Longevity: Loake has an even longer history, with roots dating back to 1880 in Kettering, Northamptonshire, UK.
Heritage Craftsmanship: Loake has a strong emphasis on craftsmanship, with skilled artisans handcrafting their shoes.
Classic Styles: The brand is known for classic English shoe styles that blend timeless aesthetics with quality materials.
2. Craftsmanship and Construction:
Crockett & Jones:
Goodyear Welted: Crockett & Jones employs the Goodyear welted construction method, renowned for its durability and the ability to resole the shoes multiple times.
Quality Materials: The brand uses premium materials such as full-grain leather, suede, and exotic leathers to create its footwear.
Handmade: Crockett & Jones maintains a strong tradition of handcrafting its shoes, with skilled craftsmen working on each pair.
Loake:
Goodyear Welted: Like Crockett & Jones, Loake also utilizes the Goodyear welted construction method for most of its shoes.
Material Selection: Loake selects high-quality leathers and materials to ensure the longevity and comfort of its footwear.
Benchmade: The brand follows a benchmade process, which combines handwork and machine work to achieve precision and quality.
3. Design Philosophy:
Crockett & Jones:
Elegant and Timeless: Crockett & Jones embraces an elegant and timeless design ethos, producing shoes that exude sophistication.
City and Country Styles: The brand offers a range of styles suitable for both city and country wear, including oxfords, derbies, and boots.
Attention to Detail: Crockett & Jones is known for its meticulous attention to detail, evident in the stitching and finishing of its footwear.
Loake:
Classic and Versatile: Loake emphasizes classic and versatile shoe designs that cater to various occasions and styles.
Heritage Influence: The brand's designs are influenced by its English heritage, resulting in classic and traditional aesthetics.
Quality Craftsmanship: Loake prides itself on the craftsmanship and quality of its shoes, often using traditional techniques.
4. Key Product Offerings:
Crockett & Jones:
Oxford Shoes: Crockett & Jones' Oxford shoes, such as the "Alex" and "Hallam," represent timeless elegance and are often favored for formal occasions.
Loafers: The brand offers a selection of loafers, combining comfort and style, ideal for more relaxed settings.
Boots: Crockett & Jones produces an array of boots, including chukkas and Chelsea boots, blending versatility with quality.
Loake:
Classic Oxford and Derby Shoes: Loake specializes in classic Oxford and Derby shoes, encompassing a range of styles suitable for formal and casual wear.
Loafers: The brand's loafers provide a comfortable and stylish option for various occasions.
Boots: Loake offers boots that align with its classic and traditional design philosophy, suitable for both urban and rural settings.
5. Comfort and Fit:
Crockett & Jones:
Balanced Fit: Crockett & Jones shoes generally have a balanced fit that is true to size, providing comfort for most wearers.
Quality Insoles: The brand often includes quality insoles for enhanced comfort.
Loake:
Comfortable Fit: Loake shoes are known for their comfortable fit, often requiring minimal break-in time.
Generous Widths: Loake offers shoes in various widths, catering to different foot shapes and sizes.
6. Pricing and Value:
Crockett & Jones:
High-End Pricing: Crockett & Jones shoes are positioned in the high-end pricing segment, reflecting their craftsmanship and materials.
Value Proposition: Many customers perceive Crockett & Jones as offering good value for the quality and craftsmanship provided.
Loake:
Mid-Range Pricing: Loake falls into the mid-range pricing category, offering competitive pricing for quality British-made footwear.
Affordable Luxury: The brand is often considered an affordable luxury option, striking a balance between quality and affordability.
7. Customer Feedback and Reviews:
Crockett & Jones:
Dedicated Following: Crockett & Jones has a dedicated customer base drawn to its elegance and craftsmanship.
High Marks: Customers frequently praise the durability, fit, and versatile designs of Crockett & Jones footwear.
Loake:
Satisfied Customers: Loake receives positive feedback for its comfortable fit, traditional designs, and overall value for money.
Heritage Appreciation: Many customers appreciate the brand's commitment to English shoemaking heritage.
8. Conclusion:
Choosing between Crockett & Jones and Loake largely depends on your personal style, fit preferences, and budget:
Choose Crockett & Jones if:

You prefer elegant and timeless designs that can transition between formal and casual settings.
You seek high-quality footwear that balances comfort, durability, and style.
You are drawn to a brand that combines a rich heritage with a modern approach to design.

Choose Loake if:

You appreciate classic and versatile English shoe designs that cater to various occasions.
You prioritize comfort and a comfortable fit that requires minimal break-in.
You are looking for quality craftsmanship at a mid-range price point.
Both Crockett & Jones and Loake exemplify the best of English shoemaking, offering footwear that reflects the enduring tradition of craftsmanship and a commitment to quality. Your decision should align with your specific needs and style preferences, ensuring that you invest in footwear that suits your lifestyle and fashion sensibilities.