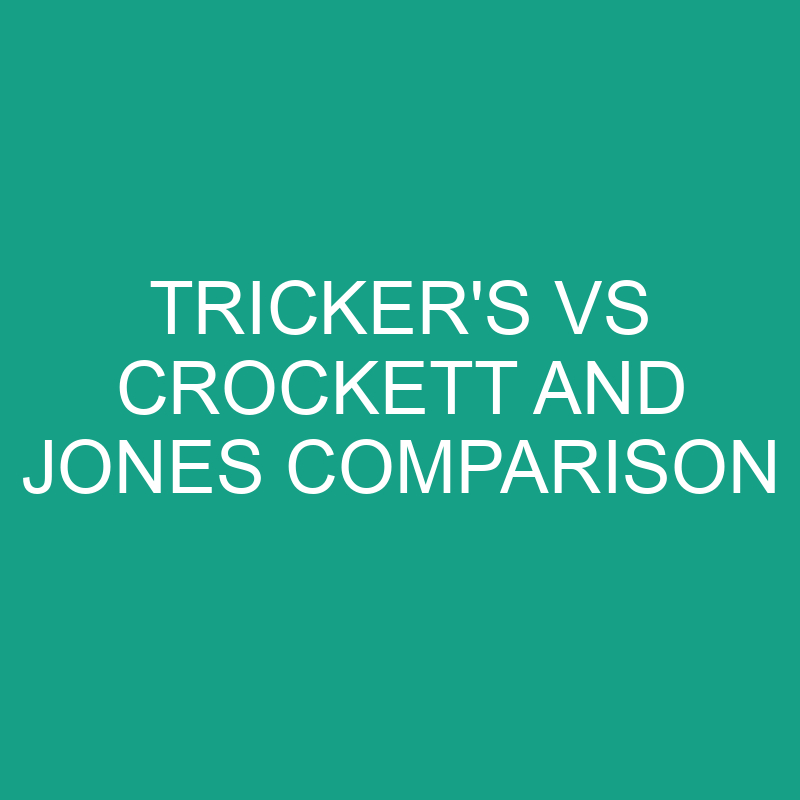 Tricker's vs. Crockett & Jones: A Comprehensive Comparison of British Shoemakers
When it comes to high-quality British shoemaking, two names that consistently stand out are Tricker's and Crockett & Jones. These two heritage brands have earned a reputation for crafting exceptional footwear, blending traditional craftsmanship with modern style. In this comprehensive comparison, we will delve into the histories, craftsmanship, design philosophies, key product lines, construction methods, pricing, customer feedback, and other essential aspects of Tricker's and Crockett & Jones. By the end of this article, you'll have a thorough understanding of what sets these two brands apart and which one might align better with your tastes and preferences.
1. Brand Histories and Legacy:
Tricker's:
Established Tradition: Tricker's, founded in 1829 in Northampton, England, boasts a remarkable heritage in shoemaking. With over 190 years of experience, the brand exemplifies the enduring tradition of British craftsmanship.
Royal Connections: Tricker's holds the Royal Warrant of the Prince of Wales, a testament to its commitment to quality and excellence.
Classic English Styles: Tricker's is renowned for its classic English shoe styles, including brogues, country boots, and derby shoes.
Crockett & Jones:
Rich Heritage: Crockett & Jones has been crafting shoes since 1879, making it another venerable British shoemaker. The brand combines a rich heritage with a contemporary approach to design.
Royal Warrant: Like Tricker's, Crockett & Jones holds the Royal Warrant, a recognition of its commitment to the highest standards.
Timeless Elegance: Crockett & Jones is celebrated for its timeless and elegant designs, including iconic models like the "Coniston" and "Cavendish."
2. Craftsmanship and Construction:
Tricker's:
Goodyear Welted: Tricker's is known for its Goodyear welted construction, which is a hallmark of quality footwear. This construction method allows for durability and resoling, extending the lifespan of the shoes.
Premium Materials: The brand uses premium materials such as full-grain leather and suede to create its shoes.
Handcrafted: Tricker's prides itself on handcrafting its shoes, with skilled artisans working on each pair.
Crockett & Jones:
Goodyear Welted: Crockett & Jones also employs the Goodyear welted construction method, ensuring robust and resoleable shoes.
High-Grade Leathers: The brand selects high-grade leathers for its shoes, offering a range of finishes and colors.
Benchmade: Crockett & Jones follows a benchmade process, which combines handwork and machine work to achieve precision and quality.
3. Design Philosophy:
Tricker's:
Classic and Rugged: Tricker's design philosophy leans towards classic and rugged styles. Their country boots and brogues are emblematic of this approach.
Country Heritage: The brand's designs are often associated with the British countryside and outdoor pursuits.
Versatile Aesthetics: Tricker's shoes strike a balance between functionality and style, making them versatile for different settings.
Crockett & Jones:
Elegant and Timeless: Crockett & Jones embraces an elegant and timeless design ethos. Many of their shoes have a refined and understated aesthetic.
City and Country: The brand offers a blend of city and country styles, suitable for both formal occasions and more relaxed settings.
Attention to Detail: Crockett & Jones is known for its attention to detail, with fine stitching and precise finishing.
4. Key Product Offerings:
Tricker's:
Country Boots: Tricker's country boots, including the iconic "Stow" and "Bourton," are highly regarded for their robustness and classic British style.
Brogues: The brand offers a wide range of brogues, from wingtip to cap-toe, catering to various tastes.
Derby Shoes: Tricker's derby shoes are known for their durability and comfort, making them suitable for everyday wear.
Crockett & Jones:
Oxford Shoes: Crockett & Jones' Oxford shoes, such as the "Alex" and "Hallam," represent timeless elegance and are often favored for formal occasions.
Loafers: The brand offers a selection of loafers, combining comfort and style, ideal for more relaxed settings.
Boots: Crockett & Jones produces an array of boots, including chukkas and Chelsea boots, blending versatility with quality.
5. Comfort and Fit:
Tricker's:
Generous Fit: Tricker's shoes are known for their generous fit, allowing room for comfort, especially in the toe box.
Customization: The brand offers customization options, including different width fittings, to accommodate various foot shapes.
Crockett & Jones:
Balanced Fit: Crockett & Jones shoes generally have a balanced fit that is true to size, providing comfort for most wearers.
Break-In Period: While comfortable, some customers note that there may be a brief break-in period for their shoes.
6. Pricing and Value:
Tricker's:
Premium Pricing: Tricker's shoes fall into the premium pricing category, reflecting their craftsmanship and heritage.
Value for Quality: Customers often view Tricker's as a worthwhile investment due to their durability and quality materials.
Crockett & Jones:
High-End Pricing: Crockett & Jones shoes are also positioned in the high-end pricing segment, reflecting their craftsmanship and materials.
Value Proposition: Many customers perceive Crockett & Jones as offering good value for the quality and craftsmanship provided.
7. Customer Feedback and Reviews:
Tricker's:
Loyal Customer Base: Tricker's has a loyal following of customers who appreciate the brand's heritage and quality.
Positive Reviews: Reviews often highlight the robustness, comfort, and timeless style of Tricker's shoes.
Crockett & Jones:
Dedicated Following: Crockett & Jones has built a dedicated customer base drawn to its elegance and craftsmanship.
High Marks: Customers frequently praise the durability, fit, and versatile designs of Crockett & Jones footwear.
8. Conclusion:
The choice between Tricker's and Crockett & Jones will largely hinge on your individual preferences and priorities:
Choose Tricker's if:

You favor classic and rugged British styles, especially country boots and brogues.
You value a generous fit and customization options to accommodate different foot shapes.
You appreciate a brand with a deeply rooted heritage in traditional craftsmanship.

Choose Crockett & Jones if:

You prefer elegant and timeless designs that can transition between formal and casual settings.
You seek high-quality footwear that balances comfort, durability, and style.
You are drawn to a brand that combines a rich heritage with a modern approach to design.
Both Tricker's and Crockett & Jones exemplify the best of British shoemaking, offering footwear that reflects the enduring tradition of craftsmanship and a commitment to quality. Your decision should align with your personal style, fit preferences, and budget considerations. Regardless of your choice, you can trust in the excellence and heritage that these brands bring to every pair of shoes they create.