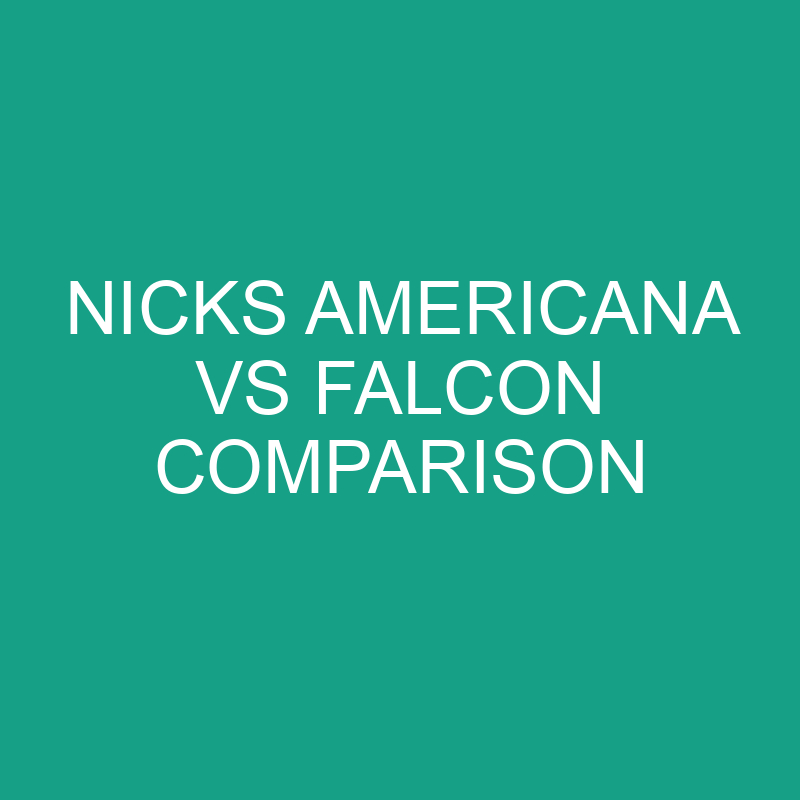 Nicks Americana vs. Falcon: A Comprehensive Comparison of Handcrafted American Work Boots
When it comes to premium, handcrafted American work boots, Nicks Americana and Falcon are two brands that stand out. These brands share a commitment to quality craftsmanship and materials, but they also have distinct differences in terms of heritage, design philosophy, product offerings, and more. In this comprehensive comparison, we will delve into the histories, craftsmanship, design approaches, key product lines, comfort, durability, pricing, and customer feedback for Nicks Americana and Falcon boots to help you make an informed choice when investing in high-quality work boots.
1. Brand Histories and Legacy:
Nicks Americana: Nicks Handmade Boots, founded in 1964 by Nick "Big Nick" Zahradka in Spokane, Washington, has a rich history in crafting custom-made work boots. The brand's legacy is deeply rooted in the American Pacific Northwest and is known for its commitment to traditional boot-making techniques. Nicks Americana has a reputation for producing some of the finest handcrafted work boots available.
Falcon: Falcon, based in Glendale, California, is a brand with a more recent history, having been established in 2016. However, despite its relatively short existence, Falcon has quickly gained recognition for its quality craftsmanship and attention to detail. The brand focuses on producing handcrafted work boots inspired by traditional designs.
2. Craftsmanship:
Nicks Americana:
Traditional Handcrafting: Nicks Americana is renowned for its traditional handcrafting methods. Their boots are built to order, and skilled artisans meticulously construct each pair with an emphasis on durability and comfort.
Goodyear Welt Construction: The brand uses Goodyear welt construction, a time-tested method known for its durability and the ease with which the boots can be resoled.
Customization: Nicks Americana offers a high degree of customization, allowing customers to choose various leather types, toe styles, soles, and other details.
Falcon:
Handmade Construction: Falcon emphasizes handmade construction techniques. Their boots are carefully crafted by skilled artisans who pay attention to detail throughout the manufacturing process.
Blake Stitch Construction: Falcon uses Blake stitch construction, which provides a sleeker profile and is often favored for its flexibility.
Customization: Falcon offers some customization options, allowing customers to choose from various leather types, colors, and sole options.
3. Design Philosophy:
Nicks Americana:
Traditional Aesthetics: Nicks Americana embraces traditional work boot aesthetics, focusing on rugged, timeless designs that are well-suited for heavy-duty work.
Classic Toe Styles: The brand offers classic toe styles like plain toe, cap toe, and logger toe, reflecting its commitment to heritage design.
Falcon:
Heritage with Modern Twists: Falcon's design philosophy combines heritage aesthetics with modern elements, resulting in work boots that are both classic and stylish.
Sleek Profiles: Falcon boots often feature sleeker profiles and unique detailing, appealing to those who appreciate a blend of traditional craftsmanship and contemporary design.
4. Key Product Offerings:
Nicks Americana:
Work Boots: Nicks Americana primarily specializes in work boots, including logger boots, lineman boots, and smokejumper boots. These boots are designed for demanding outdoor and industrial work.
Firefighter Boots: The brand also offers specialized firefighter boots that meet stringent safety and performance standards.
Custom Boots: Nicks Americana is known for its custom boot service, allowing customers to design boots to their specifications.
Falcon:
Work Boots: Falcon offers a range of work boots inspired by classic designs, including plain toe, cap toe, and moc toe styles. These boots are suitable for various work environments.
Casual Boots: In addition to work boots, Falcon produces casual boots that blend workwear aesthetics with everyday comfort.
Custom Options: Falcon provides some customization options for customers who want to tailor their boots to their preferences.
5. Comfort and Fit:
Nicks Americana:
Comfort-Focused: Nicks Americana places a strong emphasis on comfort, with features like cushioned insoles and ample arch support.
Break-In Period: Some wearers note that Nicks Americana boots may have a longer break-in period due to their rugged construction.
Falcon:
Balanced Comfort: Falcon boots offer a balanced blend of comfort and support, making them suitable for extended wear.
Quick Break-In: Many customers find that Falcon boots have a shorter break-in period compared to some other high-quality work boots.
6. Pricing:
Both Nicks Americana and Falcon offer handcrafted work boots that are priced at the premium end of the spectrum. Prices can vary significantly depending on factors such as leather type, customization options, and specific styles. While Nicks Americana has a longer history and a reputation for its custom offerings, Falcon aims to provide high-quality boots at a slightly lower price point while still offering some customization options.
7. Customer Feedback and Reviews:
Nicks Americana:
Customers often praise Nicks Americana for its exceptional craftsmanship, durability, and comfort.
Some reviewers appreciate the brand's custom options, which allow them to create boots tailored to their needs and style.
Falcon:
Falcon has received positive feedback for its combination of classic work boot aesthetics and modern design elements.
Customers frequently mention the boots' comfort and quality, as well as their shorter break-in period.
8. Conclusion:
Choosing between Nicks Americana and Falcon depends on your specific preferences, style, and work needs. Here's a quick summary to help you decide:
Choose Nicks Americana if:

You prioritize traditional craftsmanship and a heritage work boot aesthetic.
Customization options and a longer break-in period are not a concern.
You require specialized work boots for demanding outdoor or industrial work.

Choose Falcon if:

You appreciate a blend of heritage aesthetics with modern design twists.
You seek a balance between comfort and durability with a shorter break-in period.
You want handcrafted work boots at a slightly more accessible price point.
Both Nicks Americana and Falcon offer exceptional American-made work boots that are crafted with care and attention to detail. Regardless of your choice, you'll be investing in footwear that is built to last and designed to meet the demands of the modern worker while reflecting your personal style.