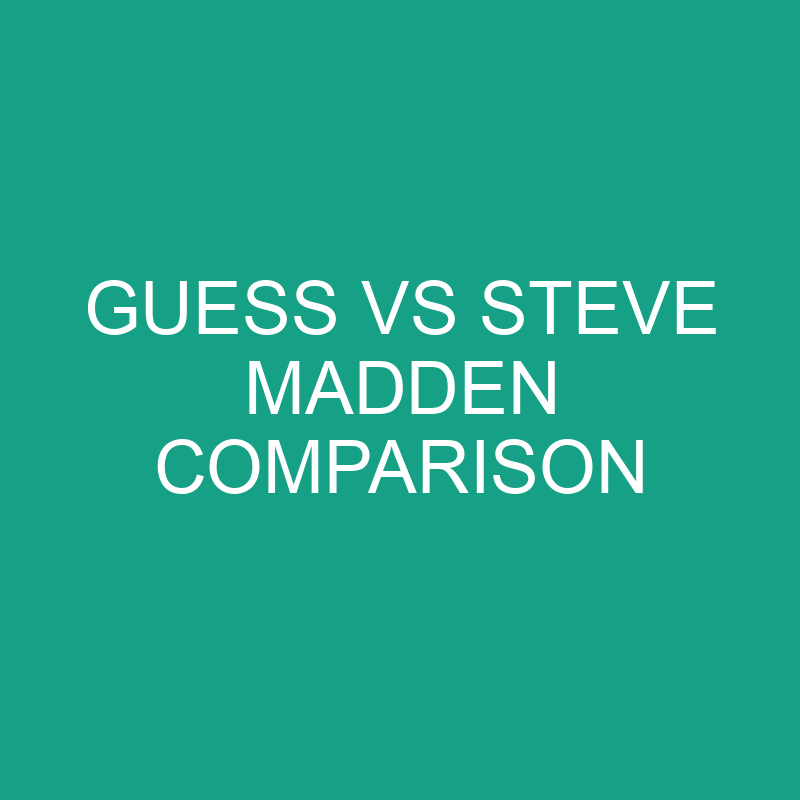 Guess vs. Steve Madden: A Comprehensive Comparison
When it comes to fashion footwear, Guess and Steve Madden are two prominent brands known for their trendy designs and accessible styles. While they share a commitment to offering fashionable shoes, each brand has a unique identity, history, and approach to design. In this comprehensive comparison, we will explore the backgrounds, design philosophies, craftsmanship, comfort, pricing, and consumer perceptions of Guess and Steve Madden. By the end of this article, you'll have a clear understanding of what sets these brands apart and which one might be a better fit for your personal style and preferences.
1. Brand Histories and Legacies:
Guess:
Foundation: Guess was founded in 1981 by the Marciano brothers, who immigrated to the United States from France.
Jeans Legacy: The brand initially gained fame for its denim and jeans but has since expanded to encompass a wide range of fashion products, including footwear.
California Aesthetic: Guess is associated with a California-inspired, youthful, and sexy aesthetic.
Steve Madden:
Inception: Steve Madden was founded by the designer of the same name in 1990 in New York City.
Rapid Growth: The brand rapidly expanded to become a well-known name in the fashion industry, offering a variety of footwear and accessories.
Trend-Driven: Steve Madden is known for its trend-driven designs and ability to quickly respond to evolving fashion trends.
2. Design Philosophy:
Guess:
Trendy Elegance: Guess focuses on trendy and sophisticated footwear with a touch of elegance.
Signature Logo: The brand often incorporates its iconic "G" logo and signature materials like denim into its shoe designs.
Versatile Styles: Guess offers a variety of styles, from heels and boots to sneakers and sandals, catering to different fashion tastes.
Steve Madden:
Fast Fashion: Steve Madden embraces a fast fashion approach, producing shoes that are quick to market and follow the latest trends.
Youthful and Bold: The brand's designs often feature bold and edgy elements, appealing to a youthful audience.
Innovative Details: Steve Madden incorporates creative details, such as unique hardware and embellishments, into its footwear.
3. Craftsmanship and Comfort:
Guess:
Fashion-Forward: Guess prioritizes fashion-forward designs, which can sometimes come at the expense of overall comfort.
Materials: The brand uses a variety of materials, including leather and synthetic options, depending on the style and price point.
Moderate Comfort: While Guess shoes are stylish, they may not always offer the same level of comfort as some other brands.
Steve Madden:
Trend-Driven Comfort: Steve Madden combines trendy designs with an emphasis on comfort, making its shoes more wearable for extended periods.
Material Variety: The brand offers a wide range of materials, including leather, suede, and synthetic options, ensuring a diverse selection.
Insole Cushioning: Some Steve Madden shoes feature added cushioning in the insole for enhanced comfort.
4. Pricing:
Guess:
Moderate to High-End Pricing: Guess positions itself in the moderate to high-end pricing segment.
Investment in Design: The brand's pricing reflects its investment in design and branding.
Value for Style: Customers are willing to pay a premium for Guess's fashionable designs and iconic logo.
Steve Madden:
Affordable to Moderate Pricing: Steve Madden offers a range of price points, making its shoes accessible to a wide audience.
Affordable Trendiness: The brand is known for delivering trendy designs at affordable price points.
Value for Trend: Consumers appreciate the combination of style and affordability.
5. Consumer Perceptions:
Guess:
Fashion Icon: Guess is often perceived as a fashion icon, especially among those who value trendy and sophisticated looks.
Logo Recognition: The iconic Guess logo is recognizable and often seen as a status symbol.
Youthful Appeal: The brand resonates particularly well with a youthful and fashion-forward audience.
Steve Madden:
Trend-Driven: Steve Madden is associated with staying on top of the latest fashion trends and offering trendy footwear options.
Accessible Style: It is recognized for making fashionable footwear accessible to a broader range of consumers.
Youthful and Edgy: The brand appeals to a younger, edgier demographic looking for bold and trendy styles.
6. Conclusion:
Choosing between Guess and Steve Madden depends on your style preferences, budget, and priorities:
Choose Guess if:

You prioritize trendy and sophisticated footwear designs.
The iconic Guess logo and branding appeal to your sense of fashion.
You are willing to invest a bit more for a fashion-forward statement piece.

Choose Steve Madden if:

You want to stay on top of the latest fashion trends without breaking the bank.
Affordable and trendy footwear is your primary focus.
You value comfort and are looking for shoes that are both stylish and wearable.
Both Guess and Steve Madden are successful brands with their own unique strengths, making them popular choices among fashion-conscious consumers. Your choice should align with your personal style, budget, and the importance you place on factors such as design, comfort, and affordability.