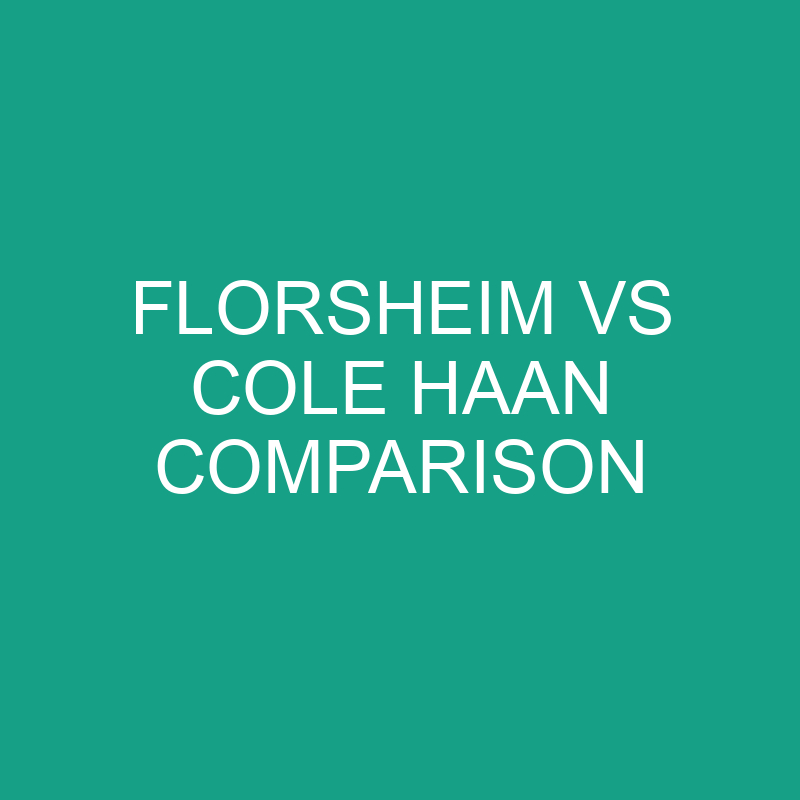 Florsheim vs. Cole Haan: A Comprehensive Comparison of Two Iconic Footwear Brands
When it comes to high-quality men's footwear, Florsheim and Cole Haan are two names that stand out. These iconic brands have been synonymous with craftsmanship, style, and innovation for decades. In this in-depth comparison, we will explore the histories, craftsmanship, design philosophies, and key product offerings of Florsheim and Cole Haan to help you make an informed choice when selecting your next pair of shoes.
1. Brand Histories and Legacy:
Florsheim: Florsheim has a rich heritage dating back to 1892 when Milton S. Florsheim started producing shoes in Chicago, USA. The brand quickly gained a reputation for crafting high-quality footwear, becoming a staple in the American shoe industry. Over the years, Florsheim has continued to blend traditional craftsmanship with modern design, creating shoes that are both timeless and stylish.
Cole Haan: Cole Haan, founded in Chicago in 1928, is another venerable American footwear brand. Initially known for its quality men's shoes, Cole Haan expanded its offerings to include women's footwear and accessories. The brand has a reputation for innovation and has collaborated with Nike to incorporate comfort technology into its shoes. Cole Haan's commitment to marrying comfort and style has earned it a dedicated following.
2. Craftsmanship:
Florsheim: Florsheim is known for its commitment to quality craftsmanship. The brand offers a range of footwear, from classic dress shoes to casual styles, all constructed with precision and attention to detail. Many Florsheim shoes are Goodyear welted, a labor-intensive construction method that ensures durability and the ability to resole the shoes, extending their lifespan. This dedication to craftsmanship is reflected in the durability and comfort of Florsheim shoes.
Cole Haan: Cole Haan has a reputation for blending traditional craftsmanship with modern technology. The brand is known for its incorporation of Nike's comfort technology, including the Grand.ØS cushioning system, which provides lightweight comfort and flexibility. While some Cole Haan shoes are Goodyear welted, others feature innovative constructions that prioritize comfort and support.
3. Design Philosophy:
Florsheim: Florsheim's design philosophy revolves around timelessness and versatility. Many of their classic styles, such as the wingtip and cap-toe oxfords, have remained virtually unchanged for decades. While they offer contemporary designs as well, Florsheim excels at creating shoes that can be worn for both formal occasions and everyday wear. Their designs often feature clean lines and traditional detailing.
Cole Haan: Cole Haan is known for its fusion of style and comfort. The brand's designs often incorporate modern and sporty elements, making their shoes suitable for both casual and formal settings. Cole Haan is also known for experimenting with materials, colors, and finishes to create unique and eye-catching footwear. Their dedication to innovation extends to their design ethos, resulting in shoes that cater to a wide range of tastes.
4. Key Product Offerings:
Florsheim:
Dress Shoes: Florsheim offers a wide range of classic dress shoes, including oxfords, derbies, loafers, and monk straps. These shoes are suitable for formal occasions and professional settings.
Casual Shoes: Florsheim's casual offerings include loafers, boat shoes, and sneakers. These shoes are designed for comfort and versatility in everyday wear.
Boots: Florsheim produces a variety of boot styles, including Chelsea boots, chukka boots, and lace-up boots, all known for their quality construction.
Accessories: The brand also offers belts, socks, and other accessories to complement their footwear.
Cole Haan:
Dress and Casual Shoes: Cole Haan's dress shoe collection includes traditional styles like oxfords and loafers, as well as more modern designs. Their casual shoes often incorporate comfort technology, making them suitable for all-day wear.
Sneakers: Cole Haan is known for its stylish sneakers, many of which feature the Grand.ØS technology for comfort and flexibility. These sneakers are versatile and can be dressed up or down.
Boots: The brand offers a range of boot styles, from dressy Chelsea boots to rugged hiking boots.
Outerwear and Accessories: In addition to footwear, Cole Haan also produces outerwear, bags, and accessories, expanding their product range.
5. Pricing:
Florsheim: Florsheim offers a wide range of price points, catering to various budgets. Their entry-level shoes are affordable and provide excellent value for the quality. Prices increase for premium lines and limited-edition releases.
Cole Haan: Cole Haan shoes are typically in a higher price bracket compared to Florsheim. This is partly due to the incorporation of comfort technology and innovative materials. While they may be on the pricier side, many customers find the investment in comfort and style to be well worth it.
6. Customer Reviews and Feedback:
Both Florsheim and Cole Haan have dedicated customer bases who appreciate the quality and style of their products. Reviews for each brand generally highlight the following:
Florsheim:
Consistent quality and craftsmanship.
Affordable options for well-made shoes.
Timeless designs suitable for various occasions.
Comfortable fit, especially for traditional dress shoes.
Cole Haan:
Innovative comfort technology, particularly the Grand.ØS cushioning system.
Stylish and modern designs that appeal to a younger audience.
High-quality materials and attention to detail.
Versatile footwear suitable for both casual and formal settings.
7. Conclusion:
The choice between Florsheim and Cole Haan ultimately depends on your preferences, budget, and the specific features you value in footwear. Florsheim is celebrated for its timeless designs, craftsmanship, and affordability, making it an excellent choice for those seeking classic and versatile footwear. Cole Haan, on the other hand, is known for its fusion of style and comfort, with a focus on innovation and modern designs, making it a top choice for those who prioritize both style and comfort in their shoes.
In the end, both brands have their unique strengths and appeal to different segments of the market. Whichever brand you choose, you can be confident that you are investing in quality footwear with a long history of craftsmanship and style.