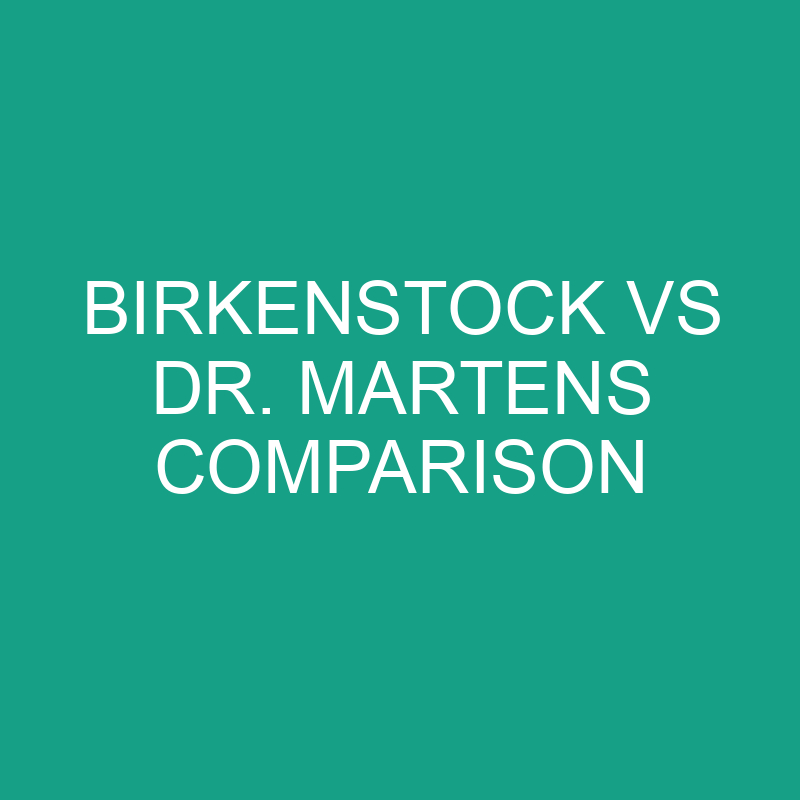 Birkenstock vs. Dr. Martens: A Comprehensive Comparison of Two Iconic Footwear Brands
When it comes to footwear, Birkenstock and Dr. Martens are two iconic brands with legacies that span decades. Each brand has carved out a distinct niche in the market, attracting devoted followers who appreciate their unique styles, comfort, and craftsmanship. In this comprehensive comparison, we will explore the histories, craftsmanship, design philosophies, key product lines, comfort, style, pricing, and customer feedback of Birkenstock and Dr. Martens to help you make an informed decision when choosing your next pair of shoes.
1. Brand Histories and Legacy:
Birkenstock:
Heritage: Birkenstock, a German brand founded in 1774, boasts a heritage that spans over two centuries. It is renowned for its commitment to foot health and comfort.
Innovation: The brand revolutionized the comfort footwear market with its contoured cork footbed, which conforms to the shape of the wearer's foot, providing excellent arch support and comfort.
Sandal Focus: Birkenstock is primarily known for its sandals, particularly the Arizona and Gizeh models. These classic, two-strap sandals have become synonymous with the brand.
Dr. Martens:
Rebellious Roots: Dr. Martens, a British brand established in 1947, has a rebellious and countercultural history. Its iconic 1460 boot, with its distinctive yellow stitching and air-cushioned sole, gained popularity among youth subcultures like punks and skinheads in the 1960s.
Durability: Dr. Martens' footwear is celebrated for its durability and rugged design, originally intended for industrial workwear.
Diverse Range: While the brand is renowned for its boots, it has expanded its range to include various styles of footwear, from oxfords to sandals.
2. Craftsmanship:
Birkenstock:
Cork Footbed: Birkenstock's hallmark is its contoured cork footbed, which is anatomically designed to provide exceptional support and comfort. It molds to the wearer's feet over time.
Quality Materials: The brand uses high-quality materials such as leather, suede, and EVA (ethylene-vinyl acetate) for its uppers and soles.
Resoleable: Many Birkenstock sandals are resoleable, extending their lifespan.
Dr. Martens:
Durable Construction: Dr. Martens' footwear is known for its robust construction. The iconic 1460 boot, for instance, features Goodyear welt stitching, making it highly durable and resoleable.
AirWair Sole: The brand's signature AirWair sole provides cushioning and comfort, often making their boots more comfortable than expected.
Wide Range of Materials: Dr. Martens offers footwear in various materials, from classic leather to vegan options, catering to different preferences.
3. Design Philosophy:
Birkenstock:
Foot Health: Birkenstock's design philosophy revolves around foot health and comfort. The focus is on providing proper arch support and alignment.
Classic Simplicity: The brand's designs are characterized by simplicity and timelessness. Birkenstock sandals, in particular, have a minimalist aesthetic.
Dr. Martens:
Iconic Aesthetics: Dr. Martens is known for its iconic and often bold aesthetics. The brand's boots feature a distinctive design with signature yellow stitching.
Countercultural Roots: The rebellious and countercultural history of Dr. Martens has heavily influenced its design philosophy, resulting in boots and shoes that make a statement.
4. Key Product Offerings:
Birkenstock:
Classic Sandals: Birkenstock's classic sandals, including the Arizona and Gizeh models, remain popular choices. They are available in various materials and color options.
Footwear Range: In addition to sandals, the brand offers clogs, sneakers, and closed-toe shoes, all designed with the Birkenstock footbed for comfort.
Dr. Martens:
Iconic Boots: Dr. Martens is best known for its iconic boots, such as the 1460 and 1490 models. These boots come in different materials and finishes.
Diverse Styles: The brand offers a wide range of footwear styles, including oxfords, loafers, sandals, and even collaborations with other fashion brands.
5. Comfort:
Birkenstock:
Contoured Footbed: Birkenstock's contoured cork footbed is designed to provide excellent arch support and promote proper foot alignment.
Comfort from Day One: Many wearers report that Birkenstock sandals are comfortable right from the start, although the footbed may take some time to fully mold to the foot.
Dr. Martens:
Air-Cushioned Sole: Dr. Martens' AirWair sole provides cushioning and shock absorption, which contributes to the comfort of their footwear.
Break-In Period: Some wearers find that Dr. Martens boots require a break-in period, particularly for the leather to soften and conform to the foot.
6. Style and Versatility:
Birkenstock:
Casual Simplicity: Birkenstock sandals are renowned for their casual simplicity. They are versatile for everyday wear, especially in warm weather.
Wardrobe Staple: Many consider Birkenstock sandals a wardrobe staple due to their timeless design and comfort.
Dr. Martens:
Statement-Making: Dr. Martens' footwear often makes a style statement, particularly the iconic boots with their bold design elements.
Versatility: While known for their edgy aesthetics, Dr. Martens' diverse range of styles includes more understated options suitable for various occasions.
7. Pricing:
Both Birkenstock and Dr. Martens offer a range of price points, making their footwear accessible to different budgets. The cost can vary depending on factors such as materials and styles. Generally, Birkenstock sandals tend to be more affordable than Dr. Martens boots, which are often considered an investment due to their durability.
8. Customer Feedback and Reviews:
Birkenstock:
Customers consistently praise Birkenstock for the comfort and foot support provided by their sandals.
Many appreciate the brand's commitment to sustainability and eco-friendly materials.
Dr. Martens:
Dr. Martens receives positive feedback for the durability of their footwear and the comfort provided by the AirWair sole.
Customers often express admiration for the brand's iconic and unique designs.
9. Conclusion:
Choosing between Birkenstock and Dr. Martens ultimately depends on your personal style, comfort preferences, and lifestyle:
Choose Birkenstock if:

You prioritize comfort and proper arch support in your footwear.
You prefer classic, minimalist designs for everyday wear.
You're looking for sandals or closed-toe shoes suitable for warm weather.

Choose Dr. Martens if:

You appreciate bold, iconic designs that make a statement.
You want durable footwear with a rebellious history.
You're interested in a wide range of styles, from boots to oxfords, suitable for various occasions.
Both Birkenstock and Dr. Martens have earned their reputations for producing high-quality, iconic footwear. Whether you're drawn to the comfort and simplicity of Birkenstock or the bold aesthetics and durability of Dr. Martens, both brands offer shoes that reflect your style and individuality.