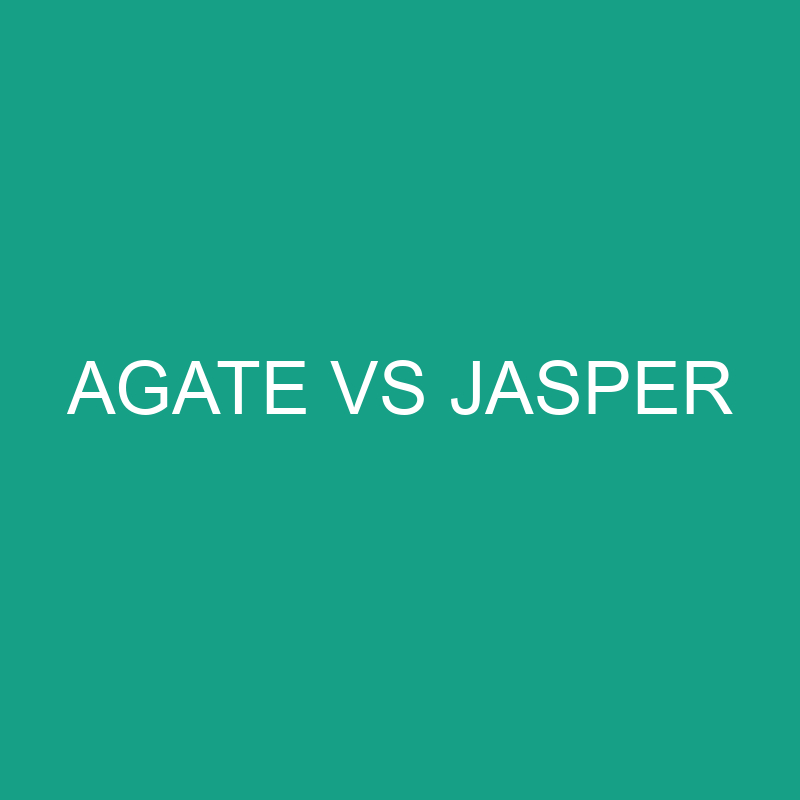 Agate and jasper are both varieties of chalcedony, a type of microcrystalline quartz. While they share some similarities, they also have distinct characteristics that set them apart. Let's explore the differences between agate and jasper.
Agate:
Origins and Geology:
Origins: Agate is found in many locations around the world, with major deposits in Brazil, Uruguay, the United States, India, and Madagascar.
Formation: It typically forms in cavities of volcanic rocks or ancient lava flows, where silica-rich fluids deposit layers of chalcedony.
Physical Properties:
Color: Agate comes in a wide range of colors, including white, gray, blue, green, pink, and brown. Many agates display banded patterns.
Transparency: It can be translucent to opaque.
Structure: Agate often forms in concentric layers, creating the characteristic banded appearance.
Mohs Scale: It has a hardness of 6.5 to 7 on the Mohs scale.
Uses:
Jewelry: Agate is commonly used in jewelry, such as beads, cabochons, and pendants.
Decorative Items: Its unique patterns make it popular for decorative items like bookends, coasters, and carvings.
Metaphysical Properties:
Protection: Agate is believed to provide protection and balance.
Harmony: It is associated with harmony and calming energies.
Jasper:
Origins and Geology:
Origins: Jasper is found in various locations, including the United States, Brazil, Germany, Russia, and India.
Formation: Like agate, jasper forms in cavities or fractures in rocks. It is often associated with volcanic activity.
Physical Properties:
Color: Jasper comes in a broad spectrum of colors, including red, brown, yellow, green, and gray. It can also be multicolored.
Transparency: Jasper is usually opaque.
Structure: Unlike agate, jasper does not typically display the banded structure. It often exhibits a solid color or includes patterns like spots or streaks.
Mohs Scale: Its hardness ranges from 6.5 to 7 on the Mohs scale.
Uses:
Jewelry: Jasper is commonly used in jewelry, especially for bold and earthy designs.
Carvings: Its solid colors and unique patterns make it suitable for carvings and sculptures.
Ornamental Items: Jasper is often used for ornamental items like vases and bowls.
Metaphysical Properties:
Grounding: Jasper is associated with grounding and stability.
Nurturing Energy: It is believed to have nurturing and protective energies.
Agate vs. Jasper: Key Differences
Appearance: Agate is known for its distinctive banding, while jasper typically lacks this banded appearance. Jasper often displays more solid colors or unique patterns like spots or streaks.
Color Range: While both agate and jasper come in a variety of colors, the color range for agate can be more extensive, and it often exhibits vibrant hues.
Transparency: Agate can be translucent to opaque, whereas jasper is generally opaque.
Use in Jewelry: Both agate and jasper are popular choices for jewelry, but agate's banded patterns are often featured prominently in designs. Jasper, with its bold and earthy colors, is favored for creating statement pieces.
Metaphysical Associations: While both stones are associated with grounding and protection, agate is often linked to harmony and calming energies, while jasper is associated with stability and nurturing energy.
Conclusion
In summary, agate and jasper are beautiful varieties of chalcedony with distinct characteristics. Agate's banded appearance and wide color range make it a versatile and popular choice, especially in the world of jewelry. Jasper, with its earthy colors and unique patterns, is equally valued for its aesthetic appeal and is often used in bold and distinctive designs. The choice between agate and jasper ultimately depends on individual preferences and the desired look for a particular piece of jewelry or decorative item.